Today I've decided that pyqlogger's wiki is designed rather poorly. Plus it missed the main point - to draw attention to the program.
So i've redesigned it. All the main sections can be reached from navigation bar at the side, and at the main page you'll get all the new developments from PyQLogger front. Enjoy.
oh, and i dunno if i've mentioned this before, but Livejournal support is completly functional in the trunk! Yeppie.
And one last thing. The nice folk over at WingWare granted me a free license for their excelent WingIDE Pro. Huge thanks to you, guys!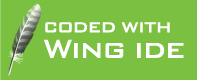 This logo can now be seen at the Wiki